Uh Huh Her came back to Boston on Saturday as a stop on their nationwide tour. They played the Brighton Music Hall (formerly Harper's Ferry), which has been featuring some great shows lately, i.e. Wild Flag in March. This is a welcome change from the old club that featured college-themed reggae cover bands and hip-hop for suburbanites. Whoever is doing the booking over there has done nothing but make me happy since the change over.
Uh Huh Her features former Boston resident Camila Grey, a former Berklee student, and Leisha Hailey. Grey was a member of the band Mellowdrone and recently toured with Adam Lambert as a member of his backing band. Hailey was a member of the 90s group The Murmurs and its later reincarnation, Gush. They were joined on stage by a backing drummer and guitarist.
Most people are familiar with UHH's first record Common Reaction, which was released in 2008. At that time, the band was caught up in a whirlwind of attention stemming from Hailey's fame as a cast member of Showtime's the L Word. The record is quite good, but sounds very produced. It has the big sound of a traditional electro-pop record and features a combination of darkness and catchy riffs. The musical talents of the duo were often overshadowed by the excitement of  Hailey's "celesbian" status. There are so few well-known out women that this fact is understandable, but it can be distracting and may be frustrating for the band. While this is true, they have never been anything but patient and accommodating to their many fans, which tells me they have hearts of gold, honestly. They even met with fans after the show to say hi and give autographs.
That said, the new EP they are touring with, Black and Blue, is a strong departure from the polished and pop-friendly first record. It is reminiscent of the concept albums bands were putting out in the 70s. For those too young to know, concept albums are usually guitar-fueled epics with lots of solos and rocking out. What is awesome about this is that so few women (I can't name any) are responsible for such albums. Women are so often making records dominated by their vocal abilities and not their ability to rock out on guitar and keys. UHH certainly has vocal abilities and they utilize them, but there is something truly empowering about watching women rock out on stage. The EP somehow manages to be accessible to fans interested in more traditional arrangements and those folks (o.k. me) who wish to play air guitar in our bedroom mirrors.
Check out Uh Huh Her's website to get the EP. A full-length should be released sometime soon with all new material.
Speaking of women who rock, I hope everyone who went to the show saw the opening band, Diamonds Under Fire.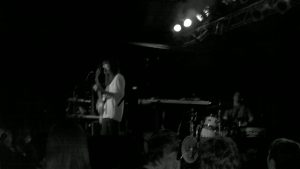 Straightforward rock n' roll with just enough attitude. They were so awesome I didn't care that the drummer kept talking about Philly while he was playing in Boston. There hasn't been enough women in rock since the 90s riot grrl scene and Diamonds Under Fire is a welcome departure from the polished, pop-rock we've been subjected to for too long.
Find out more at their website.