Unstraight formed through a blaze of social media and dyke marches and friends of friends. Their music, simultaneously introspective and ringing with clarity, beckons you to connect and wills you to ponder the tenuous nature of relationships and all that you want from life. Unstraight coaxes the wishes out of your imagination and channels them into instruments and amplifiers, pouring sound into your ears until you're moving your body not knowing why.
Jen on drums, Emily on bass, Katie on guitar, Lizzy on synth, and Madeleine on vocals: together they push the boundaries of alternative rock to the edges, with intertwining ribbons of electronic, punk, and garage. "Clarity" owns the first love song lyrics that Madeleine ever wrote, which pull at you, leaving you wanting more. "Not Close Enough" and "Show Me" tangle with hidden desires, and "Make Up Your Mind" simply wishes certain people would just make up their damn minds and expresses that through a variety of time signatures. And "Words to Seduce You," well, music is going to save your soul and this song knows it.
The meaning of the band's name is two-fold; one is blatantly queer and the other that Unstraight does not walk the common path. Walk with them–they already love you for it.
Unstraight is all women, all queer, and all you ever wanted. (bio courtesy the band)
Q&A WITH QWIMB
What brought you to Boston?
Madeleine: I came here for grad school in psych and stayed to pursue music, which is what I'm actually supposed to be doing with my life! Emily came for work as well I believe (she is a post-doc in math at Harvard), and Lizzy and Katie grew up in this general area. Jen has lived all over the country and finally found a home in the Boston area, where two of her siblings also live.
Have you experienced a strong scene for queer women in the city in terms of music/performers etc?
Madeleine: When I first moved to Boston and right up until I formed Unstraight, I was in the punk rock band The Furiousity. In that band I had my first taste of what a sense of community in the music scene could be like. When I put together Unstraight, having had that experience I actively sought out a queer music community. While it does exist in some ways it could always be stronger and more present. That is part of the reason that I put on the Big Queer Show (next one: June 6th—Pride Kickoff Party!) collaborating with Mad Femme Pride; I want there to be events in Boston (and beyond?) where the focus is queer music and musicians.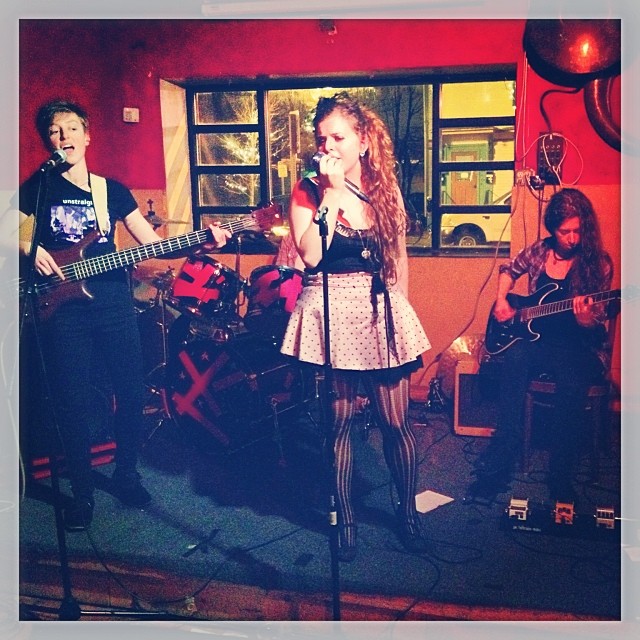 Do you have any sense of a history of a queer scene here or is the past a faded memory?
Madeleine: I've only been in Boston about 6 years and was just fully coming out when I arrived, so I'm not sure I'm qualified to answer this question. However, I've found a really fantastic network of musicians, queers, artists, performers, queer organizations, and other awesome queer people and allies since I've been here and I think they and the events they are involved in really make the queer scene what it is.
Beyond dance nights, like many of Dyke Night's events, Queeroke, and Zuesdays which I love and are absolutely necessary and appreciated, I think there is a need for other queer spaces and performances which many large events like Big Queer Show, The Femme Show, Genrequeer, Traniwreck, and smaller events like book clubs and discussion groups and craft nights try to fill. As far as history goes, event organizers of the past and present have one very formidable enemy: the couch. Come out and do things, queers and friends!
What made you decide to join a band?
Madeleine: I didn't just want to join a band; I wanted to make one. I wanted to find musicians who could help me take the music that is in my mind and heart and release it to the rest of the world. I wanted my bandmates to be dedicated, passionate, honest and forthright, and more talented than me. And queer. I basically wanted the (nearly) impossible and got it, and I think anyone can, really, with perseverance.
I'm really grateful to now have a talented platonic musicwife in Katie, who basically has the same music brain as me. We write songs collaboratively and we just both kind of know when our parts (and sometimes when the other person's parts) are right. We agree 98% of the time, and it's kind of magical. Jen, Emily, and our new synth player, Lizzy, also seem to really understand the music in a way that I'm continuously amazed at; we give feedback openly, but so much of it seems to be instinctive. I'm lucky. Really lucky.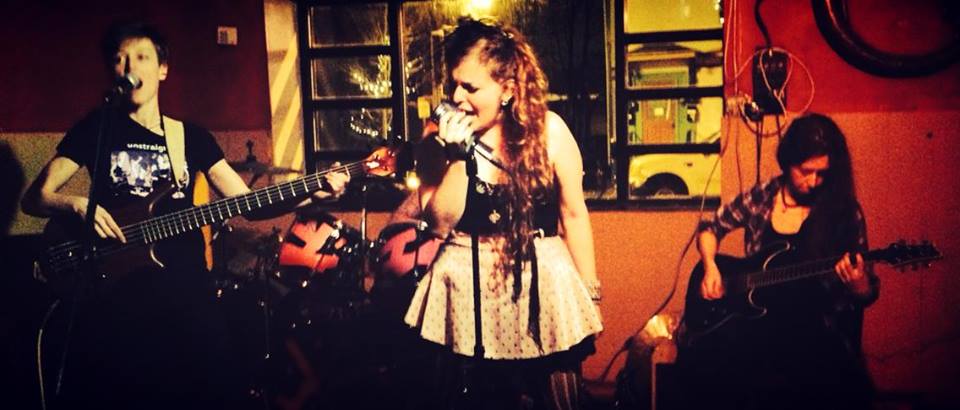 Katie: I was extremely impressed and inspired when I first heard Madeleine sing. As the lead singer of her previous band The Furiousity, I immediately noticed her talent, technical ability, and the pure quality of her voice—how it stands out and shines.
Perhaps love at first note?
We both spoke about how we are both classically trained and enjoy the opera. I think I asked her "Want to jam sometime?" and she invited me on her conquest to form an all-women all-queer band. Best decision ever.
We began writing music together and we've been creating some of my absolute favorite music in existence. Yeah it's pretty awesome to be a member in one of your favorite bands! Jen, Emily and Lizzy are all such incredible musicians with improvisational skills and natural instincts, so everything just flows nicely. Madeleine continues to impress and inspire me with her beautifully crafted vocal melodies. I am beyond blessed to make music with all of these lovely ladies.
Jen: This is the second "lesbian" or queer band I was "recruited" into. This one, by Madeleine, who knew an acquaintance of mine, who had heard me play drums with the former band. I knew Katie beforehand, but I only knew of her impressive DJ skills – not that she was also a phenomenal guitarist who pulls Santana-esque riffs out of thin air, noodles Nintendo worthy segues and writes songs that Tool would be honored to perform, due to multiple, rapid-fire time signature and tempo changes.
And yet, I have a very hard time answering the questions "Who do you sound like? What is your style?" The first thing I noticed about Madeleine (besides her Harajuku girls style, for lack of a better term), was her Amy Lee of Evanescence style ethereal vocals which float over our much harder (though still not hardcore) music. And Emily – well, Emily impresses constantly. I call her the "band genius". I learn new things about Emily all the time, and at this point, I'm no longer shocked, though I am continually impressed. Her skills seem to know no bounds, AND, bonus point, she keeps us on point during practices! Lizzy – let's just say she fills out the band both with music and personality and I'm happy to announce we have decided to be music-wives. Emily will have to decide if she wants a music wife – we may have to have a wife threesome. When I heard Lizzy's synth with our music – it was the "Aha!" moment – with eyes bugged out, and screaming "YES!". The way that we practice, the way that we endeavor to perform, the way that we record – it is with the intent to be as professional as we can be. We mean to be taken seriously, but we are also having a lot of fun doing it!
Are there any artists that you look up to or who have inspired your own music?
Madeleine: For sound influence, I love Sahara Hotnights, Garbage, and Florence and the Machine, among many others. I also really look up to The Shondes, Amanda Palmer, and Melissa Ferrick—they are really making it DIY style and I really admire that.
Katie: I am inspired by many different styles ranging from classical to indie rock to metal to electronic to folk and more. Notable artists for me are Mozart, Tool, Bjork, Arcade Fire, Pantera, Rodrigo y Gabriela, DFRNT, Fleet Foxes, Juana Molina, The XX and Florence and the Machine.
Jen: I've never been into names: brands, celebrities or otherwise. But there have been a few artists that really get that sound that tugs at me and compels me to look them up (at different points in my life). I would say Juliette Lewis, MSMR, The White Stripes, The Yeah Yeah Yeahs, Flyleaf, Bush and Gossip are a short list of bands/musicians that I look up to. I have a lot of respect for any artist that writes his/her own music and sounds great live, though. Shoutout to Kristen Ford and her amazing band, who are writing and performing amazing, original music live right here in the Boston Metro area!
Emily: I'm rarely able to identify an artist I hear on the radio – and this is even if I "know" the song well enough to sing the harmony. When Madeleine recruited me, she included links to music by three artists I'd never heard of. I love it when my bandmates share music with me. I'm learning a lot.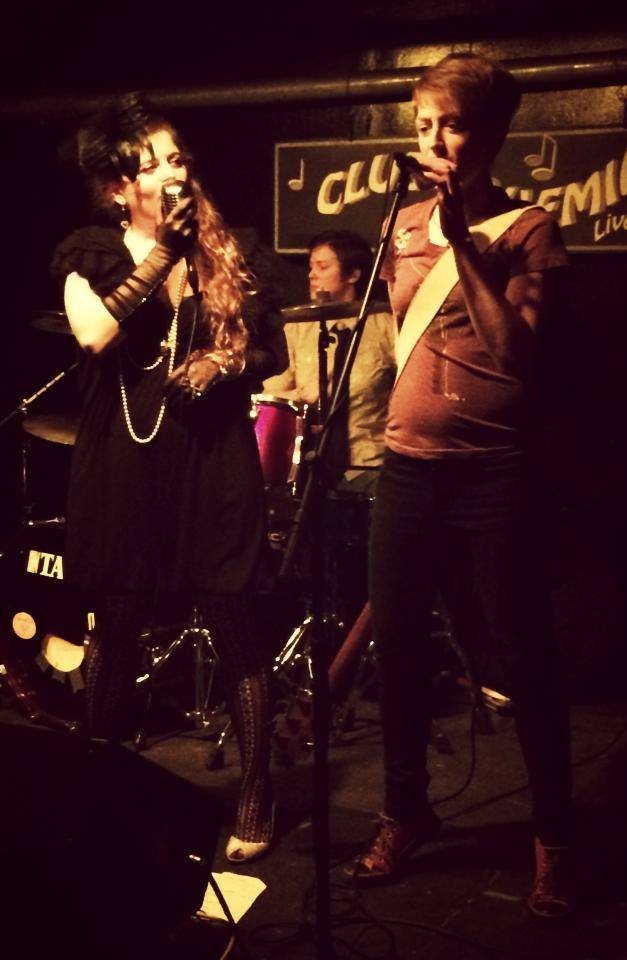 Do you think things are getting better for queer female performers or are there still barriers to overcome?
Madeleine: It's better, but I feel like I/we live in a sort of bubble here in Boston. There are still many, many barriers to overcome; when I toured with my last band I got kind of sick of hearing "Oh man, you are pretty good for girls." In this band we are both all women and all queer; double the chances for some sort of disparaging homophobic or sexist comment. I just like to think of it as double the opportunity to really unexpectedly blow someone away and change their minds and hearts, if just a little, in how they feel about queers and women in general.
Are you in any other bands?
Madeleine: No, but if I could quit my day job and do music exclusively I probably would at least have a side project or two. Or perhaps not be so terribly behind on band promotional work!
What has been your proudest moment as a member of a band?
Madeleine: I have had so many proud moments, but I think my next proudest moment will be when we can finally release our EP to the world this fall. Right now we have some great demo tracks, but to finally have a tangible item that people can purchase and hold in their hand, to finally have something I want to send to everyone I've ever met and just say—hey LISTEN, that will be my proudest moment yet.
What advice would you give to a woman thinking about starting a band or learning an instrument?
Madeleine: You want to? Start. Learn the instrument that resonates with you. Learn it and study it and love it. Find others who share your passion, they are out there. I volunteer for Ladies Rock Camp Boston for just that reason—women belong in music and queers do too. There is space for everyone; this is not a competition. Go to shows, say hello, meet people, be part of the world you want to be part of. The only thing stopping you is you.
Listen to some of their Music:
Clarity:
Words to Seduce You:
Show Me
Not Close Enough
!!!!!!!!!!!!!!!!!!!!!!!!!!!!!!!!!!!!!!!!!!!!!!!!!!!!!!!!!!!!!!
Unstraight Has a Big Show Coming Up:
BIG QUEER SHOW: PRIDE KICKOFF PARTY–6/6/14
It's all that you ever dreamed of in a show, and now it has come back as a fabulous kick off party to your Pride week! This show/party will not only start with some friendly Mad Femme Pride-led mixing and mingling, but will follow with four fantastic queer bands, dancing between sets and after the last band until 1 a.m.!
Featuring:
GLBTAQ-loving and friendly. 21+, 8 p.m., $10 advance, $12 door, Copperfield's: 98 Brookline Ave., Boston.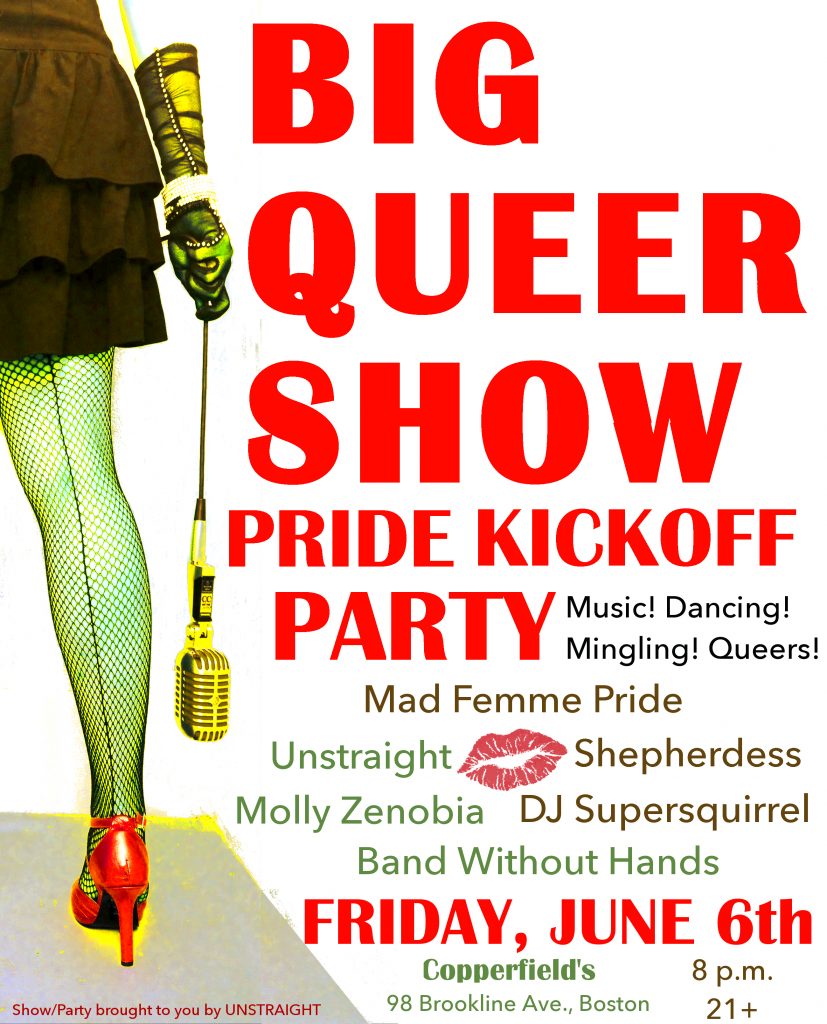 Want More From Unstraight: