So just who is Johnny Blazes? (Bio Courtesy www.johnnyblazes.com)
Named "one of Boston's rising stars" by Stuff Magazine, Johnny Blazes is known for their  genre-bending, gender-blending, tongue-in-cheek performances.  They draw from their category-defying brand of vaudevillian performance that incorporates drag, burlesque, comedy and clowning.  In recent years, Johnny's work has moved away from vaudeville and into live music, and their focus has moved to fronting their 12 piece soul band, Johnny Blazes and The Pretty Boys.
After graduating from Oberlin College in 2007, where they founded and directed OCircus!, a 95-person student group with whom they created five original shows, Johnny returned to their hometown of Boston and immediately dove into the nascent local circus community.  In 2008, Johnny co-wrote and directed Mischief in the Machine, an evening-length circus theater production, in collaboration with Emperor Norton's Stationary Marching Band.  This show served as one of the seminal moments for the founding of The Boston Circus Guild.  Johnny served on the board of The Boston Circus Guild for several years, and directed and performed in a number of shows with the BCG, including Reign of Revelry, Threshold, and Vaudevillainy.
From 2007 until 2011, Johnny was a corps cast member of TraniWreck, Boston's all-gender, all-genre drag cabaret mess.  During that time period, Johnny frequently performed at drag, burlesque and variety shows in Boston and New York City, and emceed for Rogue Burlesque, The Boston Circus Guild, Vadalna Tribal Dance Company, as well as for professional and student drag shows at colleges across the United States. They toured with The Tranny Roadshow, The Femme Show and Gender Queeries and collaborated with Big Moves Boston, The Theater Offensive, The Extra Terrestrial Circus Experiment, and many other performance groups.  They created an experimental cabaret show with collaborator Madge of Honor called Hypothesis, which ran from September 2010 through September 2011.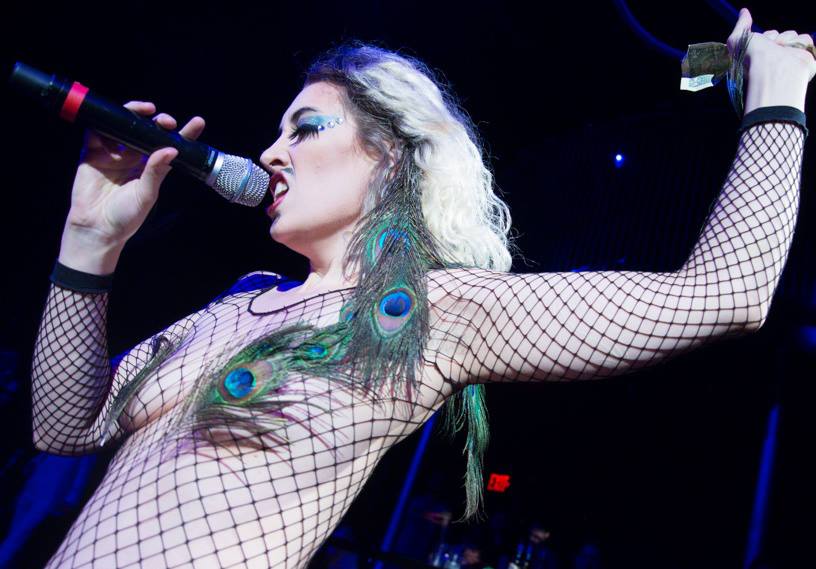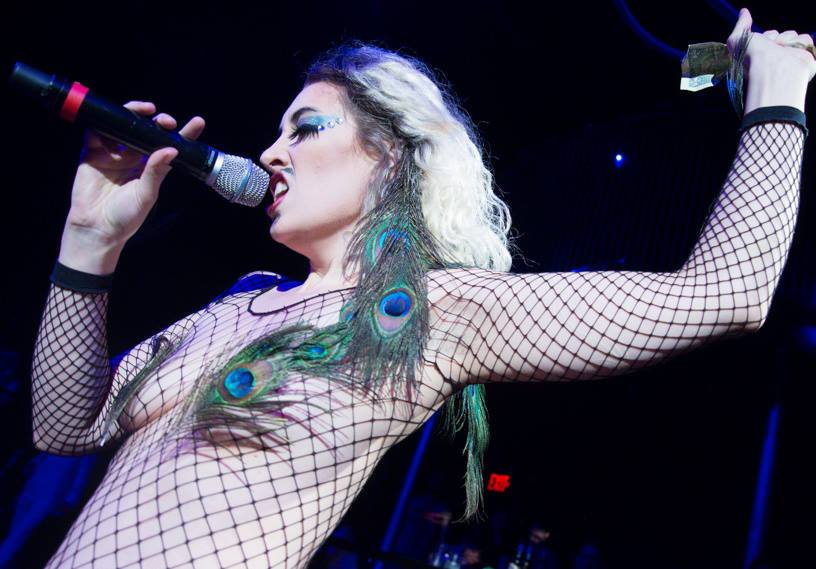 In April of 2010 Johnny forayed into the Boston theater scene to collaborate with The Performance Lab (now Liars & Believers) to curate and host the opening act to Le Cabaret Grimm, a punk rock fairy tale. In July of 2011, Johnny joined the cast of Tonya and Nancy: The Rock Opera in the double role of Tonya's and Nancy's mothers.
Johnny is currently on the editorial board of Salacious Magazine, a radical, anti-racist, feminist, queer sex magazine with a focus on art and comics.  Johnny has co-authored several comics with fabulous queer artist Katie Diamond, as well as with long time friend and collaborator David Brown.  Johnny's work has been published inGender Outlaws 2: The Next Generation (Seal Press, 2010) and Encounters in Contact (Oberlin College Press 2010).
Johnny's wo(n)man show, a one-person, evening-length vaudevillian performance that incorporates theater, drag, dance, opera and circus arts to explore gender stereotypes and the performance of one's daily gender, toured intermittently from 2009 until 2012. wo(n)man show has played in small theaters, universities and colleges in Boston, New York City, Hudson Valley, NY, Schenectady, NY, Baltimore, Portland, ME, Philadelphia, Richmond, Washington DC, Vermont and New Hampshire.
QWIMB asked Johnny some questions and here is what transpired:
What brought you to Boston?
I was born here.  I went away for college, but once I was done touring with the circus troupe I had founded, I ended up back in Boston for a summer teaching gig and then just… stayed.  I love to travel, but I always come back to Boston as my home – it's my favorite city, and my family is here.
Have you experienced a strong scene for queer women in the city in terms of music/performers etc?
Queer community was really important to me when I moved back to Boston.  I was in The Femme Show, TraniWreck, The Tranny Roadshow, doing a lot of identity politics art.  Drag, burlesque, performance art that related to gender and sexuality, and was intended for a queer audience.  Then, as I started to move away from that type of art-making and towards music (or back towards music, I should say) I found that my choice of community was revolving more and more around musicians – musicians of all different sexualities, orientations, and genders.  What unites us is more our relationship with Boston's cabaret scene, and our weirdo-ness, I suppose.  I also think that these days, in Boston especially, while there is still very much a need for queer community, queer music isn't just for queer audiences any more.  I can rely on my queer community for support, and while being queer is integral to who I am and the content of my music, I know that it will be received well by other musicians, regardless of their own sexualities and orientations.
Do you have any sense of a history of a queer scene here or is the past a faded memory?
I moved back to Boston in 2007, and while I lived here before college, I was a kid then, so I don't have a great sense of what was happening in the 90s and early 2000s.  At least in the over 21 scene – let me tell you, those BAGLY dances were killer. 🙂  My dad used to play with Ryan Landry, so I would go to Machine with him when I was a teenager/young adult to see his rock musical send-ups.  And I've talked a bunch with drag kings and poets who are 15-20 years older than me about what stuff was like when I was too young to be paying attention.  So yes — I have some sense of Boston queer history, but mostly revolving around drag rather than music.
What made you decide to start performing?
I don't think it was ever a decision, it's simply who I am.  I was in school plays, ballet recitals, choir concerts as soon as I could talk – you couldn't keep me from stealing the spotlight.
Are there any artists that you look up to or who have inspired your own music?
Susan Tedeschi is always the first name on my lips when talking about my inspiration.  Hearing her album Just Won't Burn in high school had the biggest effect on me of any album I've listened to before or since.  Others in the pantheon include: Bonnie Raitt, Ella Fitzgerald, Nina Simone, Aretha Franklin, Stevie Wonder, Janis Joplin, Sly and the Family Stone.  And of course, They Might Be Giants, Beyoncé, P!nk, Teresa Tudury.
I'm also immensely influenced by my dad, J. Johnson. While we don't have exactly the same taste in music, growing up with a musician dad that I adored made a huge impact on what I do and don't like, what I'm a little snobbish about, how I think about music.  I'm also spoiled because he has that exasperating, wonderful talent where he can listen to a song once and then play it for you. On any instrument. Some of that is innate, and some of that he had to work for, as I understand it, but I am still constantly in awe of him and wish I had inherited that particular talent.  What I did inherit from him is the mockingbird ear.  He can play any melody or chord progression he hears, but he can also imitate tone quality and feel, particularly with his guitar.  I've got that with my voice and inflection.  As a clown I can imitate people's mannerisms, and I can manipulate my voice to fit a lot of genres and styles.  The challenge has been in finding my own sound that feels genuine.
Do think things are getting better for queer female performers or are there still barriers to overcome?
There are still barriers for queer females to overcome in every industry, certainly.  And disabled females, and females of color, and even rich white females from the suburbs.  Just look at how many more men than women there are in music – especially instrumentalists.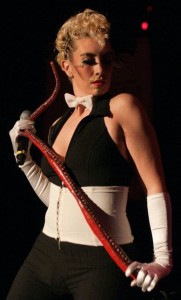 The particular issue that comes up often for me is more related to my gender rather than my queerness, but I think it's relevant, since it's a problem that my queer community is more equipped to handle.  To wit: I prefer to use the pronouns they and them, rather than she and her, since they fit better with who I am.  This is easy enough to implement in exclusively queer spaces, but in musician communities, there are a lot more straight people who've never even thought to ask someone what pronoun they would prefer to use. So I get a lot of lady, girl, sister, she, her, because people simply don't know better.  This puts the onus on me to either be constantly speaking up and asking people to change their language, or to just be silent and take it.  I'm blessed to have some amazing friends in the Boston music community (of all orientations) who call me by the correct pronouns and set an example for others, but it's slow going getting everyone on board.
Are you in any other bands/performance acts?
I sing with my project, Johnny Blazes and the Pretty Boys, and with The Michael J. Epstein Memorial Library.  I also sang on John Surette's Tomorrow the World, and on Mission Creep's upcoming album, so I've played live with both of those groups a couple of times to promote and celebrate those albums.
What has been your proudest moment as a performer?
That's a really tough one! I take a lot of pride in what I do, and I try to take a moment after each and every performance, no matter how large or small the set or the venue, to truly feel proud of what I have just created and shared.  The most magical moment I've ever experienced was when I was singing at my sister's memorial service.  I was singing a song that my dear friend Bethel Steele wrote, Blue Skies, and I was looking up at the rafters of the church where I grew up singing in the choir, and I realized that my voice had been forever changed by the tragedy of my sister's death.  It was a feeling of *rightness*, that I was doing the right thing with my life. Tragedy has a way of stripping away everything that is unimportant and leaving you as your purest self – if you let it.
What advice would you give to a queer woman thinking about starting a band or learning an instrument?
Advice that I'd give specifically to a queer woman, as opposed to anyone else?  I would say: you have a unique opportunity, as someone who already does not fit into what society-at-large expects and wants from you, so use the bravery and stamina and fuck-you-ness that you've had to learn all your life and apply that to music.  You don't need to play acoustic guitar and sing like Ani.  (Though of course you can, if that's what gets your juices juicing.) You can play any instrument you want, in any genre, and write songs about anything you want.
For more info on Johnny Blazes, check out: