Boston's all female, post 90's riot grrl, 70's psych influenced power trio! The band features Emily Arkin on baritone guitar, violin, vocals, Hilken Mancini on guitar and vocals, and Alison Murray on the drums. All the women are also volunteers, founders, activists with Girls Rock Campaign Boston.
QWIMB sent some of the usual questions on Boston, music, and queerness to the band and here is what they had to say:
What brought you to Boston?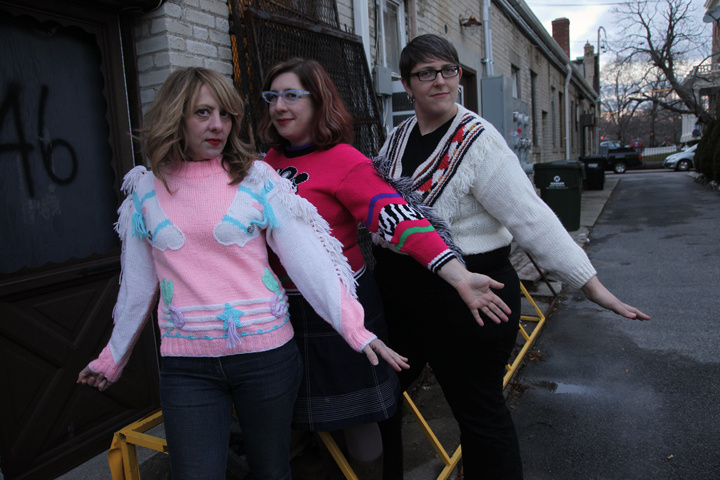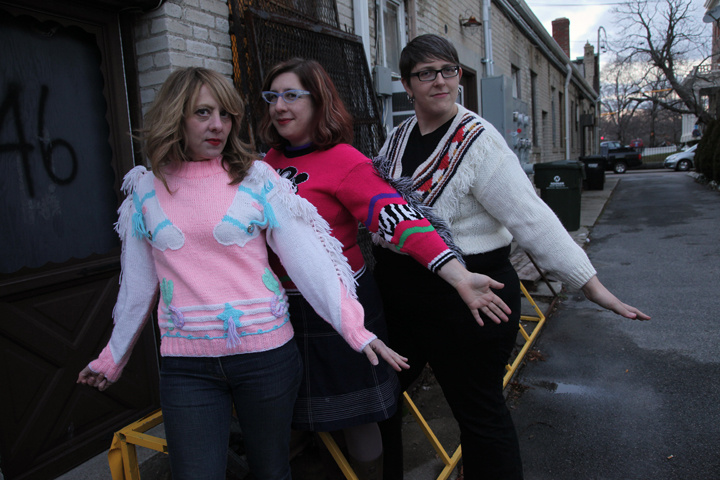 Emily: I grew up in Cambridge, and moved back to Somerville soon after college in NY. My mom dreamed of moving to this area her whole life, and it took her a long time to finally settle here, so I feel like I should stick with it! But mostly I agree with her primary reason for wanting to live here: it's a metro area with great access to art, music, books, and movies. I also feel that Boston is big enough, and has so many schools and general music-lovers, that a 1000 musical flowers can bloom–many parallel scenes and kinds of music flourish side-by-side and cross-pollinate. Yet it's a nice walkable/bikeable/liveable size.
Alison: I was living in Chicago and long-distance dating a lady in Boston.  Now I live here and we're married. So… love brought me to Boston.
Hilken:  I came here to go to the Boston Conservatory in 1988 as a dance major
Have you experienced a strong scene for queer women in the city in terms of music/performers etc?
Emily: We've met a lot of kindred spirits playing events by/for/about queer women, and similarly with riot grrrl, ladyfest, and other feminist groups or causes. I will say that common politics/orientation doesn't necessarily equal musical cohesion–sometimes we our music doesn't really "go" with other bands on a bill just because the theme of the night is ladies or ladies-who-love-ladies. But there's an upside to that diversity too: I'm not sure I'd want to live in a town with such a well-defined scene that the music or social landscape is too homogenous–that sounds claustrophobic to me.
Alison: Not when I first moved here, but it's always hard to find your place when you first move somewhere.  I had just come from a pretty rad queer scene in Chicago and was really sorry to be disconnected from that, knowing I'd have to start all over again.  I originally put an ad out on craigslist to find people to play with and used some pretty strong words like "queer" and "feminist" to weed out people who'd waste my time.  It's really not fun to show up for a 'jam' session that turns out to be you watching some dude solo for 45 minutes.  Since joining forces with Girls Rock Campaign Boston I've met more women in the music scene, some of them are even queer!  The Ladies Rock Camp volunteers and campers have really created this community of support that lives and breathes on its own here in Boston.
Hilken: I don't think too much about being queer and whether the city favors you or not in terms of playing music but- one of the first bands I was really into in the early 90's was Come (that Thalia Zedek fronted) and my band Fuzzy (that I was in the early 90's) recorded with Tim O'Heir at Fort Apache because of the Come record 11/11 that we loved so much- and that connection really helped us eventually because Fort Apache heard our recording and then ended up managing our career for the next six or seven years after that – so in a way that was a really positive thing that happened in my life and was mainly due to the Come thing so….I guess Yes.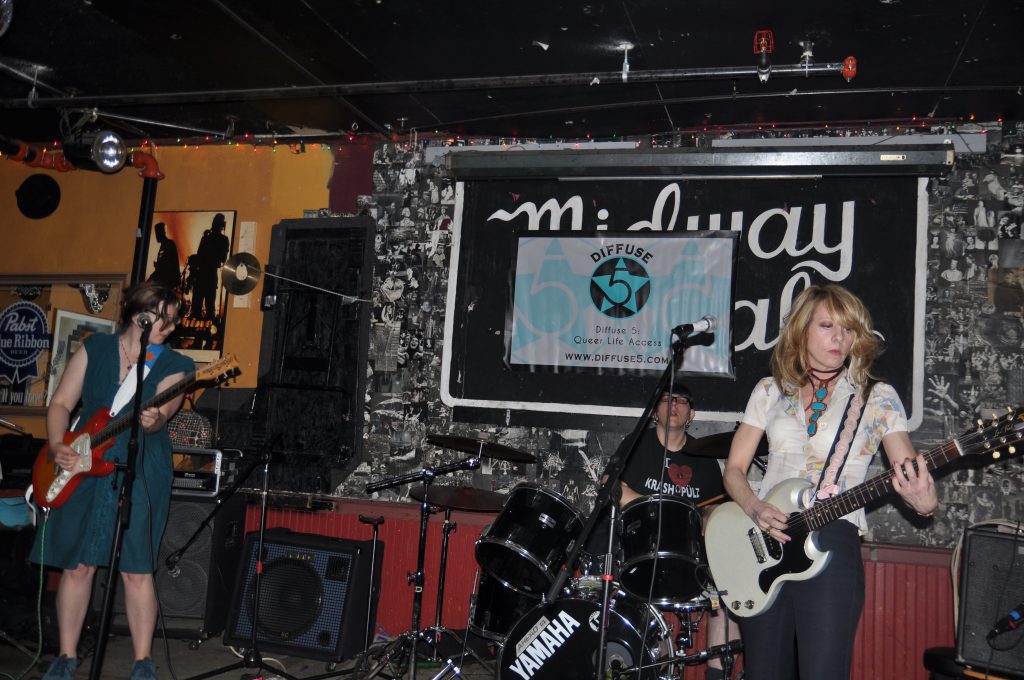 What made you decide to join a band?
Emily: I was a classical violinist growing up but also a huge fan of rock, particularly Boston women-led bands like Throwing Muses and The Breeders (later Sleater-Kinney and adjacent DC/Oly riot grrrl bands). I started noodling on guitar, but had terrible stage fright and didn't like to jam or improvise, so never realistically considered being in a band. (I did come up a list of theoretical band names with my high-school friend Jessie, all of which came to be real bands: "Heavens to Betsy," "Placebo," and even our joke name "Klymaxx"…she went on to be an accomplished band-leader and rock-club-owner herself).  Between reading band interviews and talking to my inspiring friends and family-members who were musicians, it dawned on me how much I would enjoy making music myself (both songwriting and performing). I needed to put aside my stage fright and worry of being inexperienced and just embrace the punk rock spirit and go for it! It was terrifying at first, but my friend Lisa who teaches art school very sagely advised me "it's scary _because_ it's important to you. You're on the right track, you're taking a personal and artistic risk–keep going."
Alison: I wanted to be in a band since I can remember.  My mom played in a country band in the 70s and 80s called "Sleight of Hand" and I used to play on their drum kit in my basement when I was 4.  My mom plays the piano, guitar, banjo, and sings so I was able to get my hands on other instruments.  I joined concert/marching band in 6th grade and played alto sax until I graduated.  I had also started playing guitar when I was 8 and finally joined a real band in high school as the bass player (only female) and we did Rage Against the Machine, Pantera, and Metallica covers.  I knew I needed to play music and I wasn't going to let anything get in my way of making that happen.
Hilken: I was dancing (Ballet) and it was really strict and I liked the idea of No Rules and creating your own art. I then became obsessed with Kate Bush because she was a Ballet dancer (like me) and then wrote her own rock music. Then I moved to Boston and saw the Neighborhoods play at Bunratty's and I wanted to be like David Minehan. Spiky hair and guitar…
Are there any artists that you look up to or who have inspired your own music?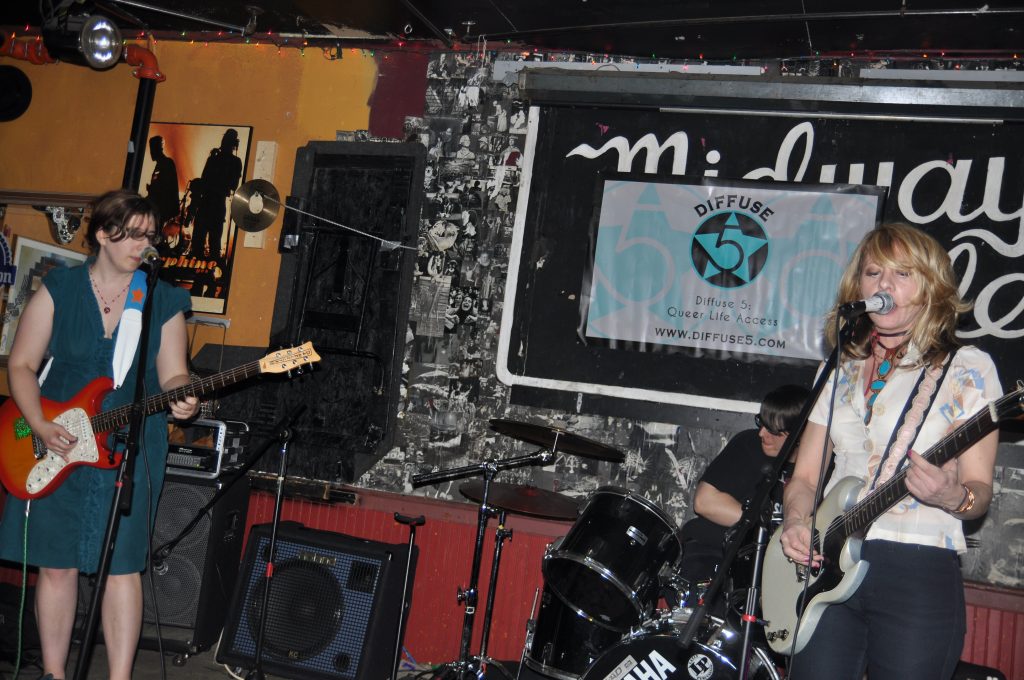 Alison: I'm constantly inspired by my amazing and talented friends as well as my favorite artists.  Sometimes all it takes is a simple guitar lick or sick beat and ideas start running through my head.  I have a wide variety of musical interests, so I'm inspired by classical, rock, celtic, folk, punk, disco, etc.  My definite stand outs are The Cure, The Smiths, Interpol, The Chameleons.  Claire Passey of Fur Purse (formerly of Lady Bust) is a killer drummer.  It feels like she kicking me in the chest with every beat and I love it.
Hilken: Kate Bush, J Mascis, Debbie Harry, Joey Ramone, Fred Sonic Smith, The Posies, Mama Cass Eliot … I don't know. so many
Do think things are getting better for queer female performers or are there still barriers to overcome?
Alison: I feel like there will always be barriers for queer female performers because we have to fight for our space from the start.  If we become complacent or take the work of our predecessors for granted, that space will be filled in again in no time.  Right when I think things are getting better, I get asked if I know how to work a mic stand.  It makes you stay sharp and on your toes, but it's also exhausting.  One time after a show, this really drunk man in the audience was genuinely attempting to compliment my drumming but it came off as if he was surprised I was capable.  He told me to "keep on drumming" and I'm so glad he did because I rely on male audience member's approval to feel good about myself.  PFFFF!
Hilken: I don't think too much about being queer and playing music. I think about getting older and playing rock music is a bigger barrier for people to overcome.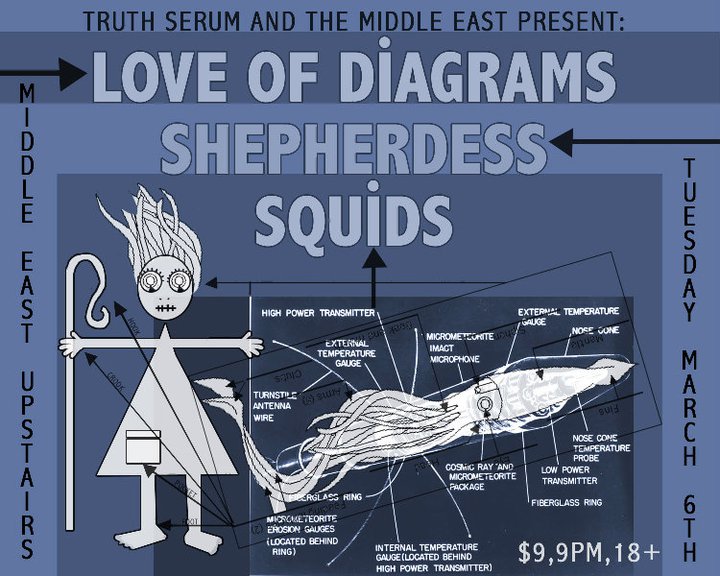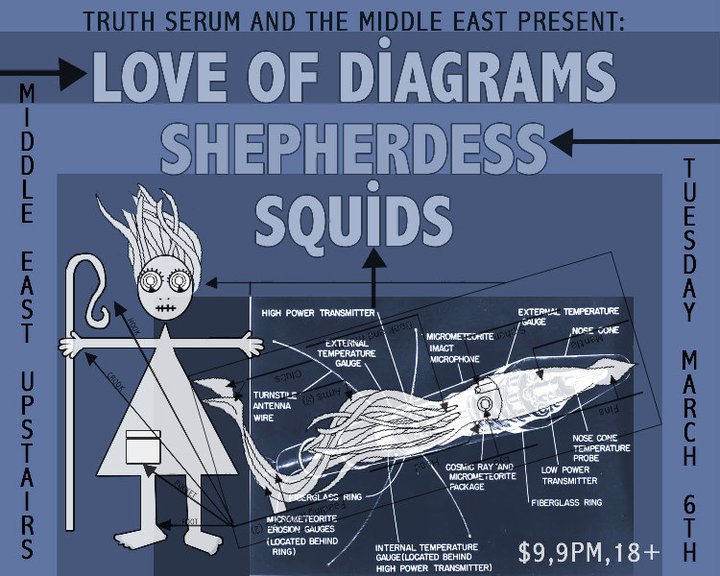 Have you been (or are you now) in other bands besides Shepherdess?
Emily: My first band was The Operators (née The Organ Grinders), where I played guitar and sang with Jen Godfrey, Paul Coleman, and Steph Melikian, and then I was in The Quincunx with Steph from the Ops and Slamber Slusser. Both bands reunite occasionally, but many of those bandmates are in other bands/other states/grad school, own their own businesses, or have young kids. Once or twice a year, I join ~40 other musicians in Animal Hospital Ensemble, a surround-sound orchestra of guitars and strings, expanding the solo work of Kevin Micka, who recorded Shepherdess's album, "I'm Saving Myself for Shepherdess". I've also been in a ridiculous number of one-off cover bands: Guided By Voices, The Ramones, The Runaways, They Might be Giants, Throwing Muses, The Breeders, The Amps, The Shaggs, James Kochalka Superstar, the Star Wars soundtrack, and I'm sure I'm forgetting many (my fave part is making up a bad tribute band names, like "Shocker in Beantown" for GBV).
Alison: I'm currently in Shepherdess and The Clear Deigns.  In Chicago I was primarily in gamine thief, but also played with a band called Funjihad where we performed one gig as Thomas Frampton and the Framptone.  I was the Framptone.  After gamine thief broke up I played with fellow bandmate Heather Lember (the ovens, Lemmy Caution, Cargo May Shift) in a two-piece called Ladycop, but I moved to Boston before that really got off the ground (arrested development?).  Before Chicago I was a solo folk artist, doing mostly instrumentals, in Detroit and Los Angeles.
Hilken: Yes. I was lead singer in a goth band in the 80's, and then I started Fuzzy, and then I put a record out with Chris Colbourn of Buffalo Tom Fame and now I play in The Monsieurs as well as the SHep!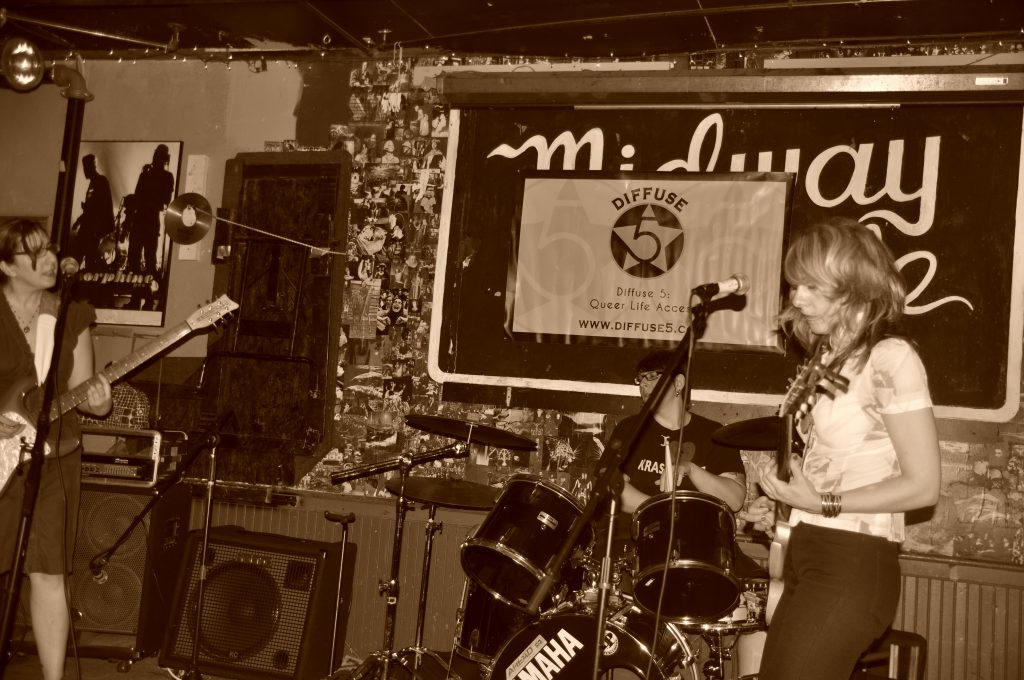 What has been your proudest moment as a member of Shepherdess?
Emily: It's especially fun to play on bills alongside musicians who I've idolized like Mission of Burma, Gordon Gano, Wild Flag, Tanya Donnelly, The Fleshtones, Cotton Candy, Kim Gordon and Thurston Moore, etc. But I think what I'm most proud of is songs we've written and/or performed the hell out of, and our relationship to our community and the organization where the three of us volunteer, Girls Rock Campaign Boston, encouraging another generation of rockers.
Alison:  It was pretty incredible to open for WILD FLAG and also Mission of Burma in two separate sold out shows at Brighton Music Hall.  My proudest moments are usually when we've all had a rough day or whatnot and we just check in before we start the show to remind ourselves that we're gonna have some fun – and then we have a kick-ass set!!  We can really turn things around just by getting out there together and playing the songs we love.  We played a show once where Hilken wasn't feeling well and she practically napped on any surface she could fit on until it was time to play.  Emily and I took care of lugging all the gear so she could chill out for a few and then we rocked!  It was kind of hilarious to be stepping over her on the floor during load out, but it just feels good to know you have each other's backs when you need it.  I think she was wearing a faux fur or something too because it was wintery out so it really looked like she was a diva.
Hilken: Starting Shepherdess at 35 years old – when I thought noone cared about older women playing rock and roll- and the freaking Phoenix calling me a "warhorse" for continuing to put records out when Shepherdess released it's first full length on KIMCHEE records back in 2006.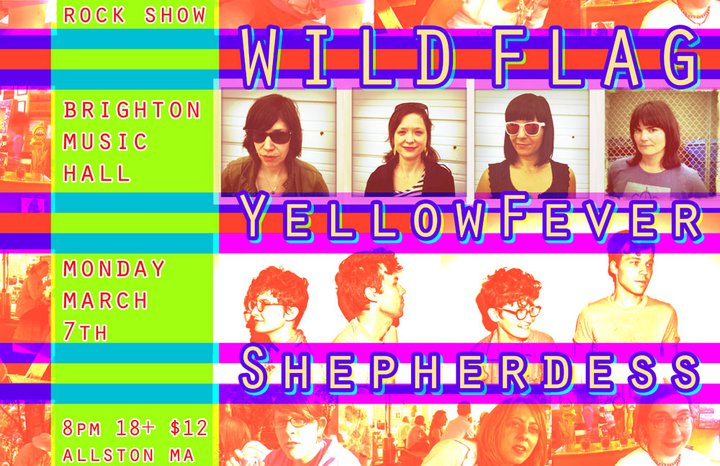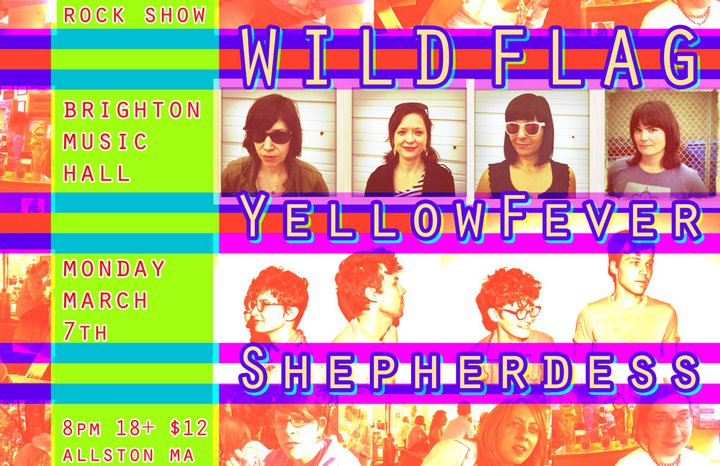 What advice would you give to a woman thinking about starting a band or learning an instrument?
Emily: I would say: It's never too late to start–the fact that you're thinking about it means you should give it a try. But it's important to note that the hardest thing about trying something new is getting over your inhibitions–you can always push yourself to be better, but you have to start from somewhere and can't be afraid of failure. I would also encourage people to be process-oriented in any artistic pursuit…it's fine to want to be a rock star, and sometimes you set goals for yourself and dream about the future, but the people I know who really enjoy being in bands (including successful bands) love band practice and songwriting and wood-shedding–they don't just sit around plotting having mad money, gold records, and groupies.
Alison: Stop thinking and start doing!  Make it happen.
Hilken: don't think about it just do it.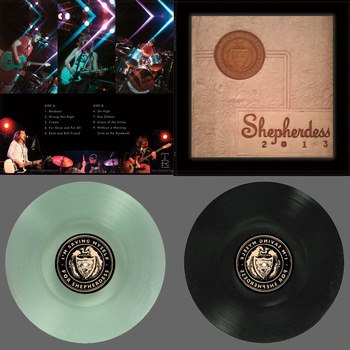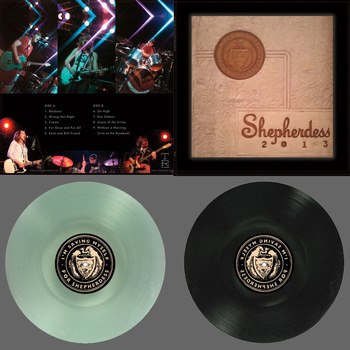 Want the newest Shepherdess record?? Get it HERE
For more on Shepherdess check out: