Introducing: Flight of Fire!
Comprised of four vivacious, accomplished women, this dynamic and passionate band explores the musical textures of upbeat hard rock, emotional folk rock, and intricate progressive rock, creating the fresh sound that is Flight of Fire. Highly influenced by classic rock artists such as Led Zeppelin, Journey, Rush, Heart and The Who, as well as modern rockers like Halestorm, Paramore, The Foo Fighters and Evanescence, Flight of Fire has varied inspiration contributing to their unique sound – rooted in time-tested rock with a fresh, modern flavor. Equipped with a dynamic lead vocalist, belting beautiful melodies with power and passion; identical twin sisters creating a harmony of electrifying guitar leads and gritty bass grooves; and a woman of mind-blowing rhythmic inspiration keeping the pocket tight, Flight of Fire is a force to be reckoned with. They have opened for Bon Jovi, The J. Giles Band, The Michael Allman Band, Fitz & The Tantrums, The Strumbellas, Joywave, Alestorm and Lita Ford. Their awards include: Winners of Limelight Magazine's "Opening Act Contest" 2016, Winners of Radio 92.9 Earthfest Battle of the Bands 2016, Winner of Limelight Magazine Music Awards' "Band of the Year" 2016, New England Music Awards' "Last Band Standing" Boston Finalists 2015, Hard Rock Rising 2015 Boston City-Wide Champions and Winners of the 2013 Fox Rocks Bon Jovi Contest to Open For Bon Jovi At Ford Field, Detroit.
QWIMB sent Flight of Fire some questions about Boston and Queerness and here's what they had to say:
What brought you to Boston?
Our lead singer, Maverick, and our guitarist and bassist, Tanya and Tia respectively, moved to Boston in 2009 to attend Berklee College of Music. Our drummer, Kat, is from Dracut, MA
Have you experienced a strong scene for Queer women in the city in terms of music/performers etc?
We've been inspired by so many of the amazing queer organizations in Boston! We've been involved with the Dyke March, both in their fundraisers and at the Dyke March itself, and our good friends Unstraight and Mad Femme Pride put on the badass Big Queer Show, which is always a great community of people!
Do you have any sense of a history of a Queer scene in the city?
We're relatively new to the scene, so we can't speak to Boston's queer history as well as others could, but as newbies, we definitely feel that there's been a strong queer musical community here for a while. We love volunteering for the Ladies Rock Camp Boston (& Girls Rock Campaign Boston), which, while not an exclusively queer movement, is certainly a feminist, empowering org that has been inspiring women to break barriers and make noise!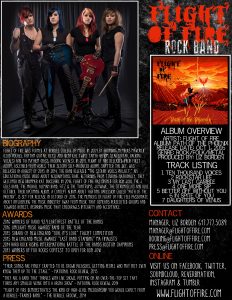 What made you decide to join a band?
We've been committed to music since we were little, writing songs, studying and performing as much as we could, which brought us eventually to Berklee! Once we were there, we shared a dream of forming an all-female rock band, and Flight of Fire was born.
Are there any artists that you look up to or who have inspired your own music?
We have been greatly inspired by bands such as Led Zeppelin, Rush and Heart in terms of their instrumental/musical prowess and variety. Lzzy Hale from Halestorm inspires us with her leadership skills as a woman in the modern rock industry.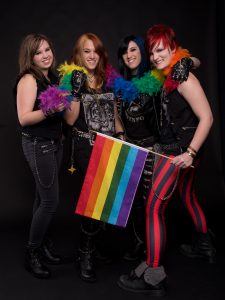 Do think things are getting better for Queer performers or are there still barriers to overcome?
Both are true! Boston is one of the best places in the country to be a provocative person, and female queer musicians are breaking barriers just by being themselves! That being said, as an all-female band, we've received our share of persecution, from casual condescension and pigeonholing to outward harassment. There's still hard work to be done.
What has been your proudest moment as a member of a band or as a musician in general?
A couple years back, we won a contest to open for Bon Jovi at Ford Field Stadium in Detroit, and that experience was one of the proudest and most motivating opportunities we've had!
What advice would you give to a woman thinking about starting a band or learning an instrument?
Do it! Don't worry about being great, or even good. Just follow your inspiration. Don't filter yourself too much – as women, especially queer women, we're socialized to hold ourselves back every second of every day! Music and performance is about throwing off the status quo and disregarding anything that gets in the way of expressing your most powerful self.
Are there any other current or former bands or solo artists you would like to see featured by QWIMB?
Carissa Johnson, Unstraight, Viva Gina
Flight of Fire recently released their first music video! 
You can check it out HERE