Red Shaydez, (a stage name she developed from a pair of red sunglasses her aunt bought for her as a child), is a woman of countless talents. "Red" represents her aura and the passion she has for all of her pursuits. "Shaydez" intertwines her nickname and symbolizes her vision of the world as well as her point of view behind her sunglasses. The Boston-native powerhouse (with roots in Macon, GA) is a Boston Music Award winning hip-hop artist, professional video producer, public speaker, educator, and youth mentor. Red's undeniable talent and electric personality have been widely praised by both local and national media such as MTV, BET JAMS, Boston 25 News , The Boston Globe, NPR MUSIC, and more! Her music video/mini-film for 'Little Sabrina' was selected for the 2020 Roxbury International Film Festival as well.
Red Shaydez has been headlining shows and performing at festivals like A3C, Hip Hop Festival in Atlanta, BAMS Fest, and area universities in New England for over a decade. After being co-signed by the legendary MC Lyte, Red has released multiple EP's, two studio albums, and was nominated for "Best Female Rapper of the Year" at the 2015 NYC Underground Music Awards. She has also been nominated for four Boston Music Awards including Album of the Year, Breakthrough Artist of the Year, and more! Listen to Red's 2016 Debut album Magnetic Aura, featuring standouts such as "Little Sabrina" and "Relapse," her sophomore return Feel the Aura, with masterpieces like "Steppin Out," "Come Here Lil' Baby," and "They Call Me Shaydez," and fan favorite "Self Care '18" from 2019 EP Chillin in the Shade. Impressively, all of Shaydez's work is entirely self-made, self-funded, and self-servicing. Everything from street team to video direction, from album art to beat selection is hand-picked and Shaydez approved.
Bio Courtesy of Red Shaydez website
Q&A for QWIMB
What brought you to Boston?
Born and raised baby!
Have you experienced a strong scene for Queer women and non-binary folx in the city in terms of music/performers etc?
Yes, I have actually. I was embraced with open arms from the Queer scene. That's when my career began to take off in the city.
Do you have any sense of a history of a Queer scene in the city?
Not until 2018. I didn't even know one existed.
Are there any venues or spaces that have been particularly influential or accommodating?
Club Café, Midtown Café (no longer with us), and last but certainly not least Bella Luna Lounge (also no longer with us)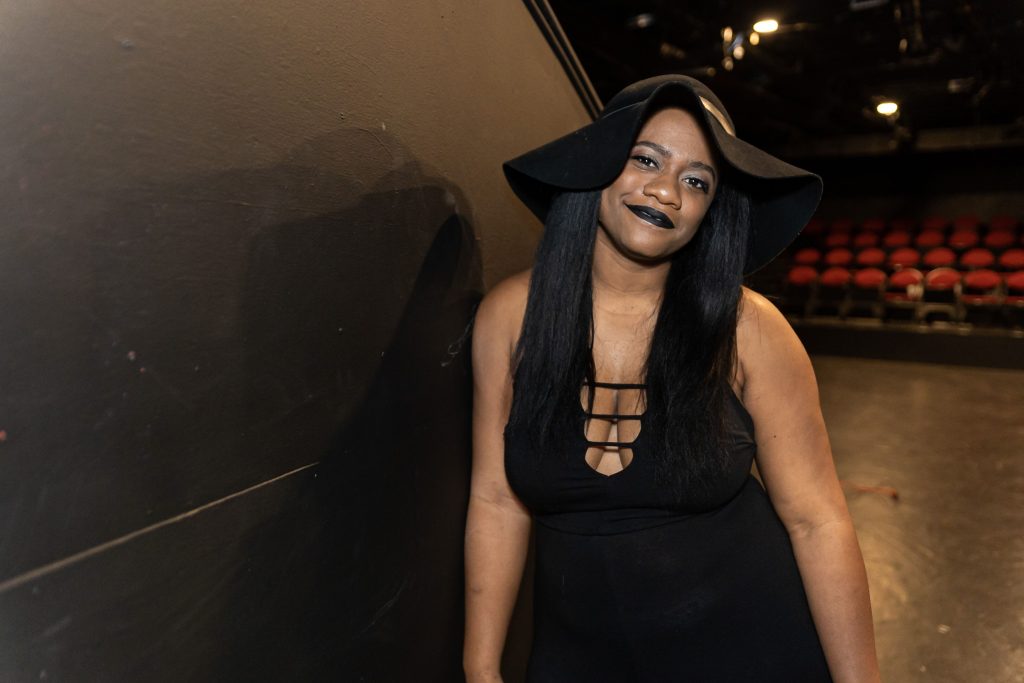 Are there any artists that you look up to or who have inspired your own music?
Aaliyah for sure for her overall persona and approach to music/personal life balance. Her mystery. Probably one of the biggest reasons I wear the shades besides my social anxiety! Lol
I'm also inspired by Missy Elliot, J. Cole, Nas and Queen Latifah to name a few.
Do think things are getting better for Queer performers or are there still barriers to overcome?
There will always be barriers to overcome because people as well as institutions feel entitled, especially with the Transgender community. Opportunities given to queer folks often exclude them. That needs to change. With that being said–things are getting better in some areas.
What advice would you give to a Queer person thinking about getting into music?
You deserve to take up space. You have every right to be here.
Are there any other current or former bands, solo artists, or DJs you would like to see featured by QWIMB?
DJ WhySham, DJ Live, Oompa, and Lik Meraki