Artist Bio: Ash Landrein (she/they) is a queer musician and writer, and founding father of Sorry, Ma!, a DIY Alt-Punk band from Somerville, Massachusetts. Ash and guitarist, Tom, take influence from The Replacements, L7, Archers of Loaf, and other fringe favorites from the 80's and beyond. Ash is also the Production Manager for ONCE Somerville, and works at different venues around the Boston and Camberville area. They currently live in Jamaica Plain, and enjoy spending time with their sweet and sensitive, Pisces girlfriend, eating Vegan fast food.
Sorry, Ma! Is: Alex Chaisson (Bass), Ash Landrein (Vocals/Guitar), Tom Nikiper (Vocals/Guitar), and Roman Zapata (Drums)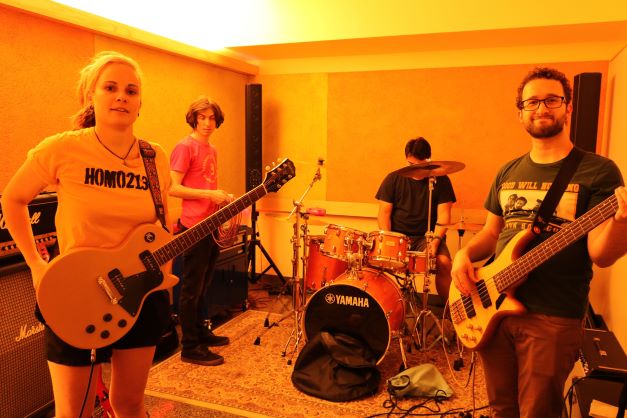 What brought you up to Boston?
I moved up to Boston in late summer of 2019. I'd been living at home on Long Island for awhile, going back to school for my undergrad degree. In 2015, though, I suffered a head and neck injury, and it took me twice as long to graduate. I spent a lot of time in isolation, but I taught myself guitar! It took me like seven months to nail down that first 'D' chord, but after that I was hooked. It was gratifying when I could finally cover "New Slang". I spent hours watching my favorite bands on YouTube. By the time I moved up to Boston for good, I couldn't wait to join a band and meet others with the same ideology. I said, "Show me your queers with guitars."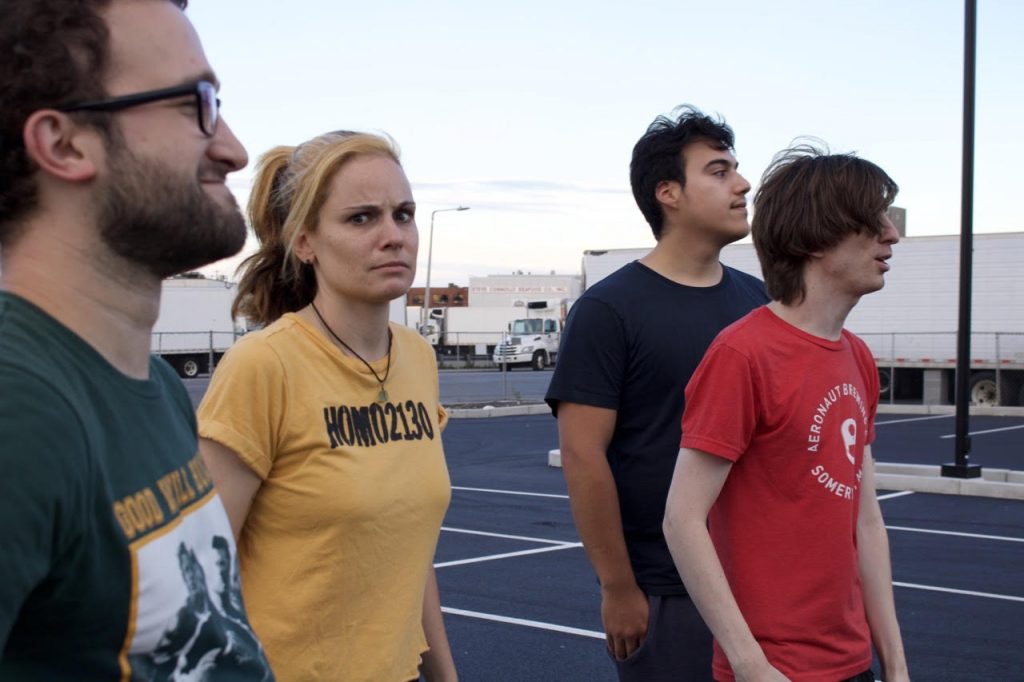 Have you experienced a strong scene for women here and gender expansive folx in terms of music/performers etc.?
Yea, there's definitely a strong scene here. I came from a really conservative place, call it a "queer wasteland", really. It was liberating moving to Boston and seeing so many gender-expansive people, expressing outwardly what I had been hiding internally for years.
But, it's also been really tough, too. I met someone on day one in my new city that was a queer woman in an all-female band. We clicked instantly and I looked to her as a sort-of guide to the scene, someone with years of experience identifying with a sexuality I'd barely started to comprehend. I thought I'd met the Corin Tucker to my Carrie Brownstein. I was like "we're going to form a band and be in love", and I felt that reciprocated…until it wasn't. I'd spent years hiding myself, just to come out and be silenced all over again. I was devastated, and suddenly in this gatekeeper situation, where I didn't really know who I could connect with or where to go to feel included. Certain sects of the scene can be really insular, and that was addressed over the pandemic. I know that's not super uplifting, but I do think it's important. It's really common for marginalized people, especially queer women, to idealize the coming out process. When you've been so deprived of a community and a sense of belonging for so long, you tend to fantasize situations in your head, just to get by. But there's a lot of trauma in this community, people get hurt and they hurt other people in self-defense and self-preservation, and that's just something I've had to contend with.
Then the pandemic hit, and all that shit got put to the backburner anyway. Aside from crying daily to "Punisher", a one-off Rilo Kiley Zoom Sing-Along, and a back porch stick-n-poke, there wasn't much connection to a queer music scene at all, let alone Boston.
I was lucky to have met my band before lockdown, though. Tom, our guitarist, and I clicked right away. He's a North Jersey "emo kid". He just took me in right away, and allowed me to scream and cry and heal and write my first songs. We just wanted to be Paul Westerberg and Tommy Stinson. And then Alex, our bassist, is just the best. I've known him for so long now. We actually dated back in my "hetero" days, and now we're just best friends and act like puppies with each other on stage. He puts the biggest smile on my face. Roman is our silent but deadly drummer. He's so talented and so prepared to slay you with his dry humor. Sometimes I get heady about being the only queer woman in the group, but then I see how sensitive and kind they are. It's super healing. It doesn't matter what you identify as at the end of the day, just be kind and lead with empathy.
But back to the scene. Now, I work for ONCE and help produce these summer series they've been doing with Boynton Yards in Union Square. JJ Gonson is amazing. We are a team of all queer women this summer. I've met so many amazing queer musicians these last two years, and made some great connections. There is so much local talent. It's crazy I get paid to listen to such great music on a weekly basis. I'm always like, "how doesn't everyone know about them?" I'm just honored to be part of the family and the history, and the future really. We've got big things in the works for the venue and the community, and I'm really excited to see how it all plays out, and contribute what I can. Like I said, it was a rough start, but I've finally found a place I belong in the city. It feels good.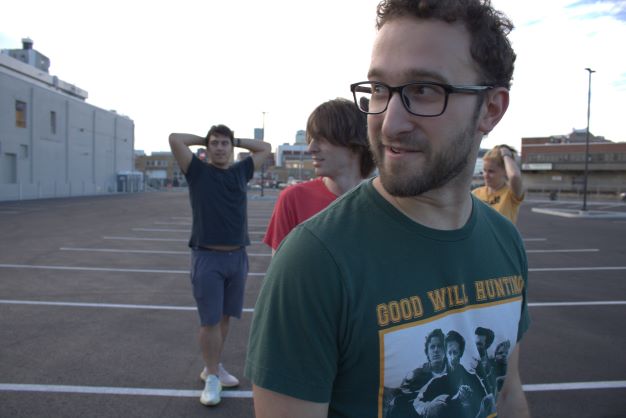 Are there any venues or spaces that have been particularly influential or accommodating?
ONCE, like I mentioned, is pretty much the bar of how most venues should operate, in my opinion, in terms of inclusivity and respect. State Park in Kendall Square is awesome too. It's got that cool dive bar feel, with a jukebox and table shuffleboard and cheap beer. I started DJ'ing there first- they have people playing records two or three nights a week with a wicked set-up. It's awesome. They have live shows on Sundays. They are really nice about letting me play there. We've got our first full band gig there in October. Nicholas Ward who books there is a super nice guy. All the staff are very kind and complimentary towards performers. It's the closest I've ever gotten to having my own Cheers bar. The Jungle in Union Square is also great.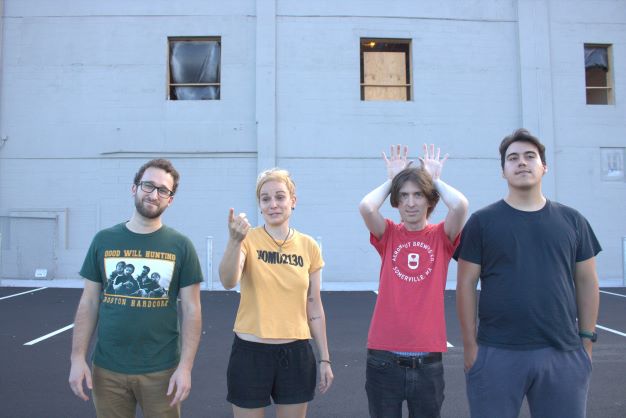 Are there any artists in the Boston scene or elsewhere that you admire or who have inspired your own music?
As far as elsewhere, and it's very far elsewhere, Camp Cope have been one of my biggest inspirations. They are a three-piece from Melbourne. Literally from the moment I heard the opening bass line of "Done" I was like "yea, that's what I want to do". They've lifted a lot of queer women around the world up with them. Same with Mannequin Pussy, Palehound, Dump Him, Screaming Females, Cayetana, Sincere Engineer. I could go on. The number of queer women in music has exploded since I was a kid.
As far as Boston goes, the women in Thrust Club are like my older sisters. Erin Genett is my literal kin, and I've looked up to her since I was a kid, but she's really taken me under her wing. She's always first to introduce you to someone you should know, or include you in the conversation. She's just the best Leo there is.
I've started being more intentional about booking shows with other queer women. I set up a show back in May with Cadderwall, The Skirts, and Bad Idea USA. The energy was amazing and everyone was so kind and inclusive. I've loved watching Walter Sickert and the Army of Broken Toys, Muzzins, Grace Givertz, Naomi Westwater, Julie Rhodes, DJ WhySham and co., Happy Little Clouds, Trigger Discipline. Genie Santiago headlined for us right after the Dobbs decision in June. It was hard but we all really bonded in the lot that day.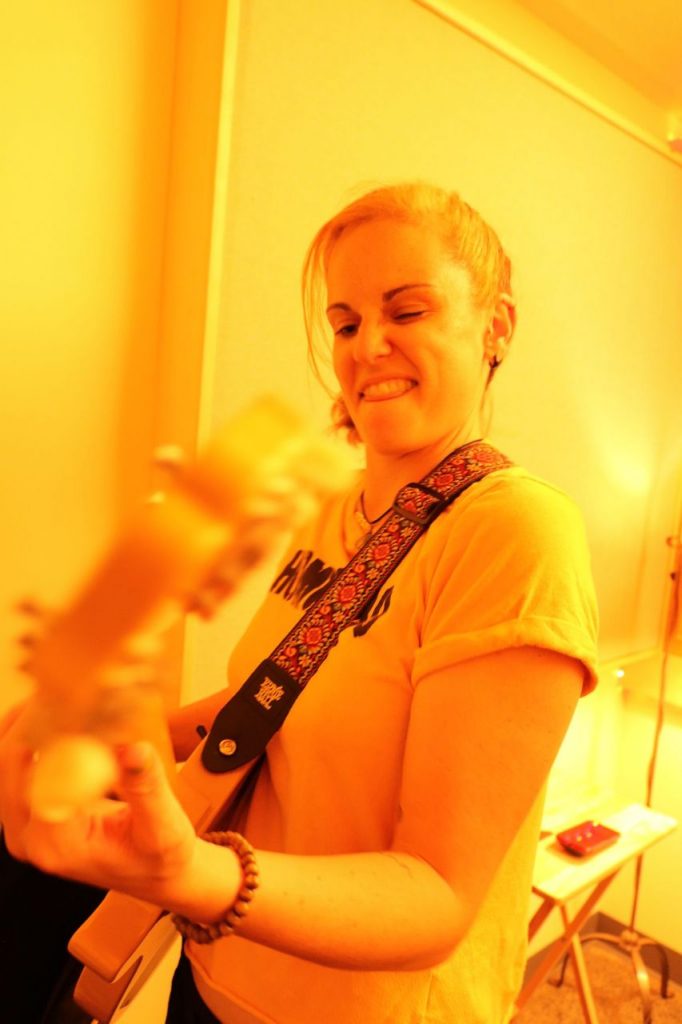 What advice would you give a queer person thinking about getting into music?
Just do it. Don't wait for anyone. If you've got the passion, you'll find a way. Turn your pain into art.
What are you looking forward to in the future?
I'd like to record some songs we've just started playing live. I want to write more and book more shows. I think the future is bright for this scene, but it's important to make an effort, and meet people where they are. My dream is to own my own queer, female focused music and book store. I've been working with Chris at Light of Day records. He's such a good mentor and so inclusive. I want to highlight all of the music and literature from queer women that have inspired me over the years, and learn more about the ones that haven't hit my radar yet. I want to continue the conversation, and continue to champion the ones doing the good work.
Are there any other artists you'd like to see featured in QWIMB?
Paper Lady, you're up!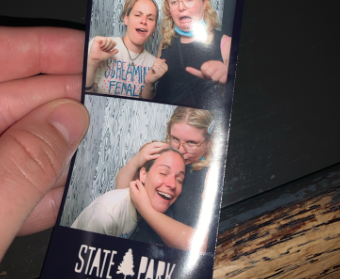 Links:
Instagram: https://www.instagram.com/sorrymaband/?hl=en
Facebook: https://www.facebook.com/sorrymaband/
Bandcamp: https://sorryma.bandcamp.com/
Special Thanks to JJ Gonson for lending their photographic eye, and Tina Lafleur for featuring us in this issue of QWIMB.
Links:
JJ Gonson: https://jj-gonson-photography.myshopify.com/
QWIMB: http://qwimb.org/
ONCE Somerville: https://oncesomerville.com/