Bio:
Haidee J is the co-founder of the Boston-based band Double Star, which she formed with Dave Kurimsky. The band as is described by the Somerville Arts Council: "Double Star mixes punk riffs, high-energy horns, and lush harmonies to create pop tunes that defy easy categorization."
Here is a historical bio of Double Star courtesy of Haidee J:
"I think I can write a song around that" Haidee said to Dave, when he shared some half-finished guitar riffs with her. It was a cloudy, cool day in March when these two seasoned musicians, both veterans of a number of bands on the East and West coasts, got together for coffee at Jamaica Plain's iconic, cow-themed ice cream parlor.
Just two weeks later, their first song was complete; State Line, a song about a road trip along the Northern California coast, a favorite activity of Haidee's when she lived in Portland, OR.
Before too long, these rising double stars had enough material to start filling out the band with bass, drums, and another multi instrumentalist female on keys/synth, saxophone, backing vocals, and percussion.
Inspired by the feelings that are stirred by the various chords and rhythms of Dave's and her guitars, Haidee's lyrics run the gamut from drug addict breakups in Holding Hands is For Lovers and Small Children, to surviving a hurricane in Thoughts and Prayers Are Not Enough. She also touches on standing up for yourself (Say Something Now), escaping the boredom of a small town (Small Town) and hearing voices (Late at Night Inside My Head).
Double Star was born and has been taking the Boston music scene by (solar) storm with their catchy melodies, pop sensibilities, and lovably quirky arrangements. Like a double star in the sky, that appears to be one star until you look closer, Double Star may surprise you!
Questions
What brought you to Boston?
I grew up in Brookline, then moved out to the West Coast for about 10 years after college, before deciding to move back East to be closer to family. I was in a band for six years in Portland, OR. We had some local success, playing the main stage at Portland's Pride Festival, an audience of thousands. On the downside, we handed out CDs for free, but they had been burned on an early computer CD burner and didn't work in most players. We also weren't marketing savvy, and this was pre-Facebook etc., so struggled to build a big fanbase. Once back in Boston I kept my eye out and played with numerous people and bands until I met Dave and we formed Double Star.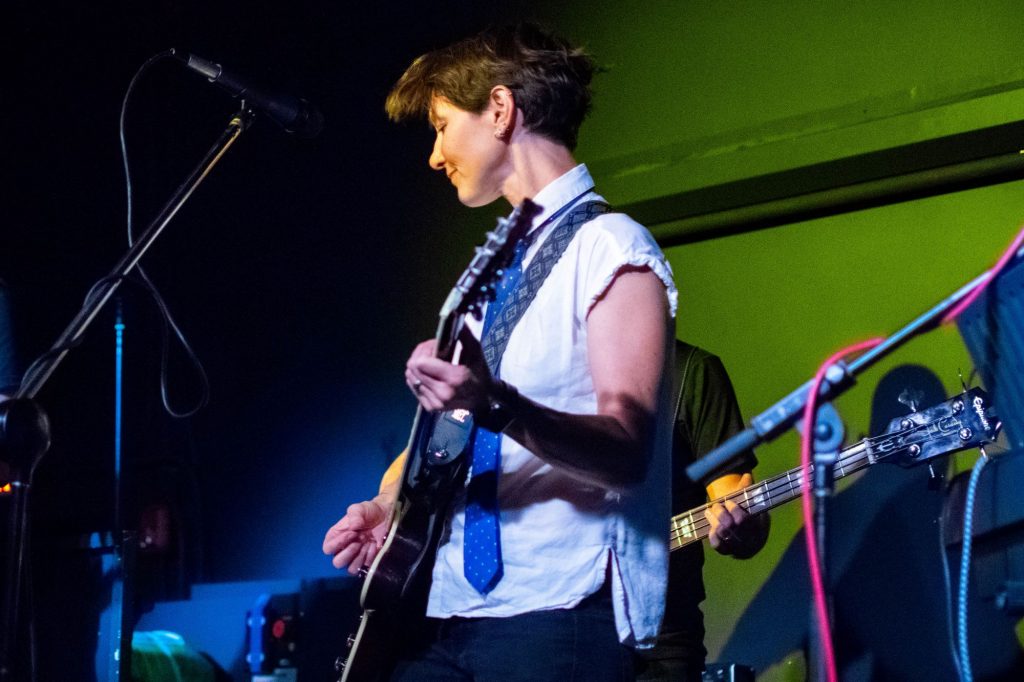 Have you experienced a strong scene for Queer women and gender expansive folx in Boston in terms of music/performers etc?
Not really, but that doesn't mean it's not there. I identify as a rock musician first, and a woman in rock 2nd. I can't say I go out of my way to seek out queer oriented events. We applied to play at some pride events this past year and didn't get in, or even hear back from some of them. The one we were invited to play at in the suburbs we couldn't make.
Do you have any sense of a history of a Queer scene in the city?
I do have a sense of a history of a Queer scene in the City, mostly that there are gay clubs, for dancing, and of course, annual Pride month and related events.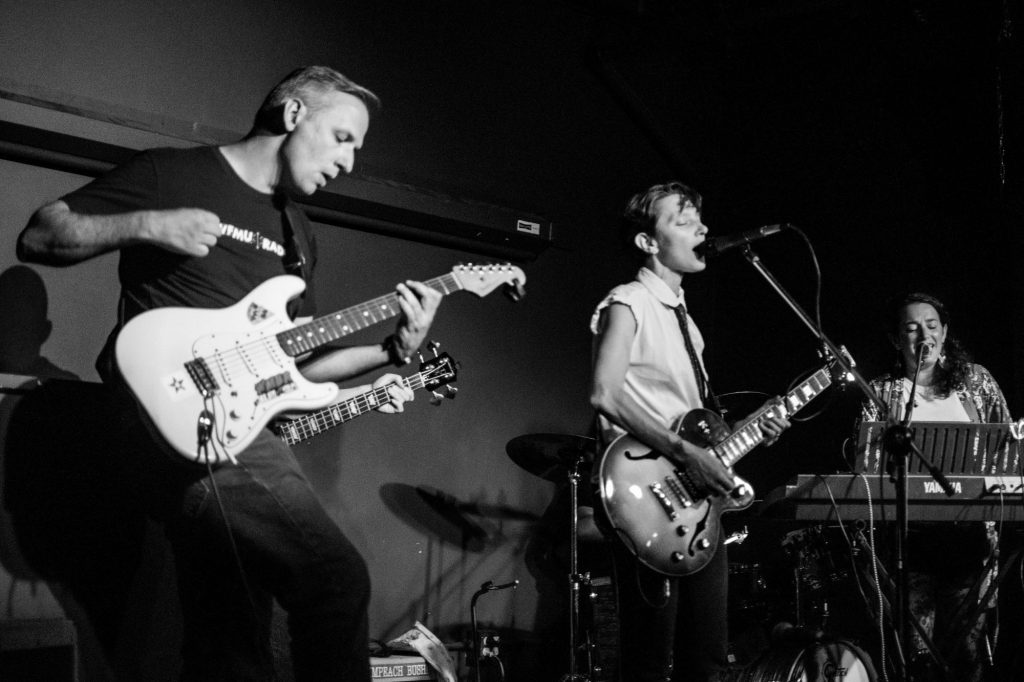 Are there any venues or spaces that have been particularly influential or accommodating?
Accommodating to queer or gender expansive artists, I can't really think of any in particular. Nor can I think of any that felt unaccommodating. Some of my favorite venues have been Aeronaut brewing, both the Allston outdoor and Somerville locations, the Square Root in Roslindale, and the Midway Café in JP of course. We had our first show there and play there a few times a year. I'm amazed at how stable the staff has remained, even through Covid, and they are always friendly and seem happy to have us back. Also, shout out to the JP Music Fest. We had a blast playing there in 2022, the sound system was amazing, and I loved that they sold your merch for you. That felt like a Boston area highlight for us.
Are there any artists in the Boston scene or elsewhere that you admire or who have inspired your own music?
Yeah, definitely. Some of my favorite local bands to play with include Threat Level Burgundy, CE Skidmore and the Damn Fine Band, The Skirts, Pink Slip, The Spots, Battlemode, AZNjujube, Why Try?. I'm know there are more, but off the top of my head, those bands share our energy; some are ska which we draw from significantly, some are quirky but also poppy like us, and some have queer members, with whom I feel an affinity.
Do you think things are getting better for Queer performers or are there still barriers to overcome?
I haven't noticed any barriers for me or my band. I feel like the arts scene in Boston proper is very Queer-friendly. I wear a shirt and tie for every show and have never gotten so much as a sideways glance.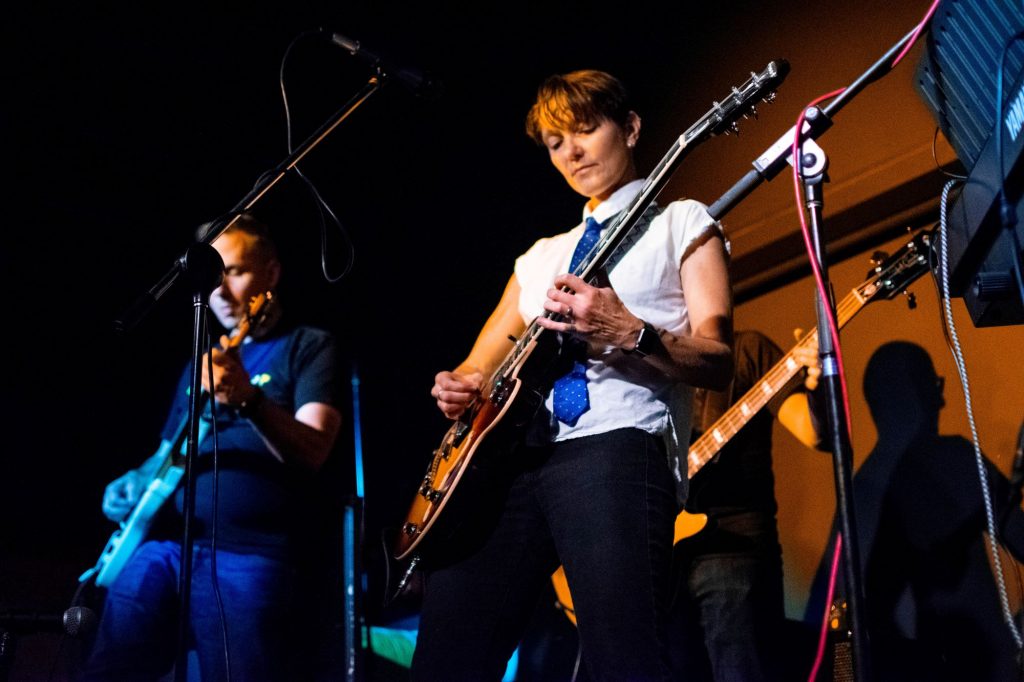 What advice would you give to a Queer person thinking about getting into music?
Same advice I'd give anyone, Do it! Don't be afraid. If it's something you love and can do, it's a powerful art form.
Are there any other current or former bands, solo artists, or DJs you would like to see featured by QWIMB?
Have you talked to CE Skidmore and the Damn Fine Band? We played with them once and saw them another time and they're fantastic and queer-fronted. Also, Battlemode. Also the Spots.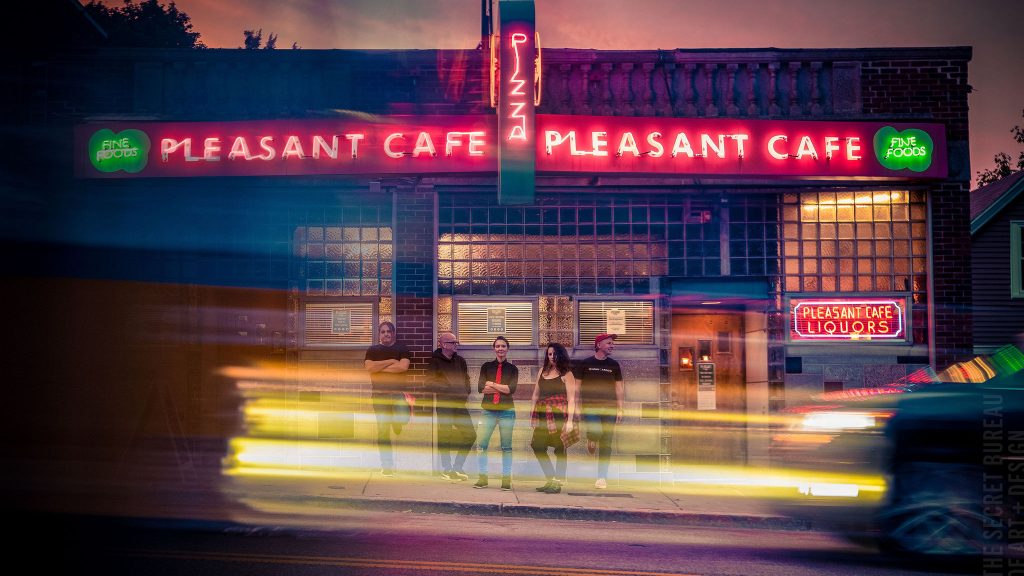 Links to Music and Social Media
https://linktr.ee/doublestarband
https://www.instagram.com/doublestarband/
https://www.facebook.com/doublestarband/