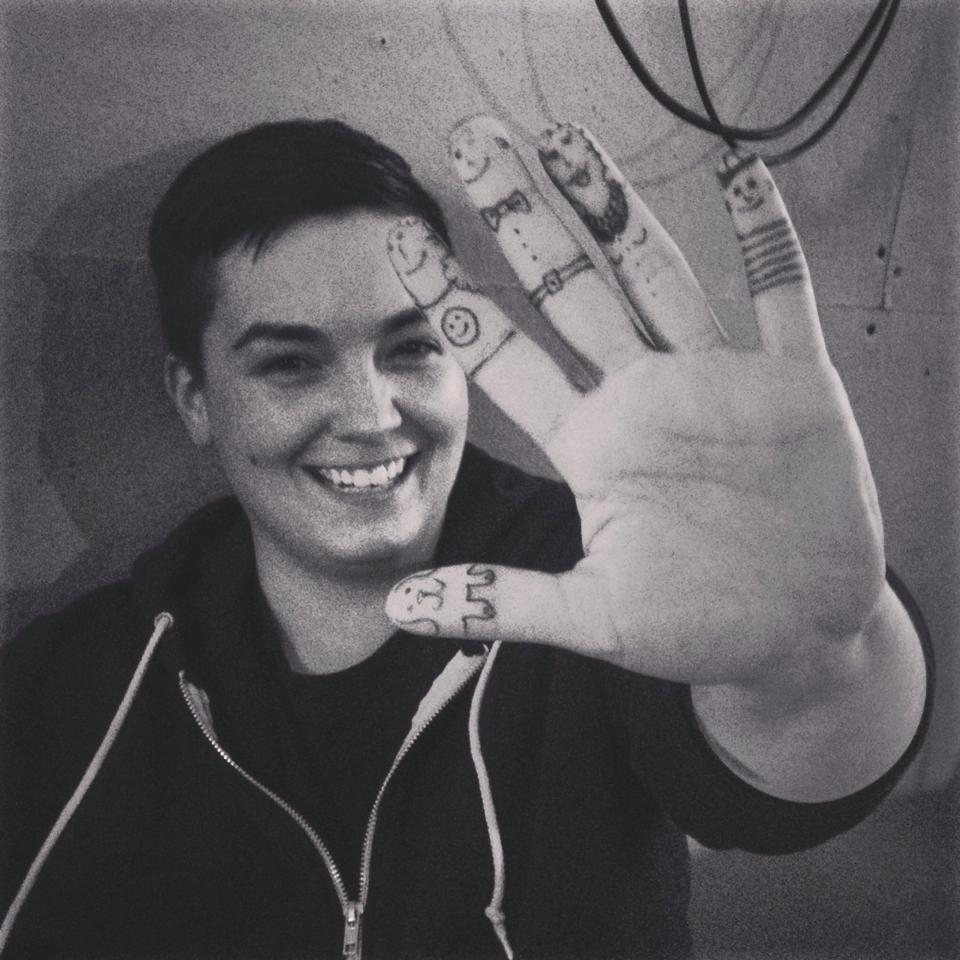 The Kitschenettes are a 4 piece, "quiet grrrl" band based in Somerville and Jamaica Plain. All four band members are long-time volunteers for Girls Rock Camp Boston and all have been active in the Boston music scene for many years. Band member, Reba Mitchell, was kind enough to answer some questions about Boston and queerness for us.
scene? Has it changed over time?
Reba: I'm not really sure how to identify the queer music scene. I mean, I know a lot of local musicians who identify as queer, but I'm hesitant to slap that label on their bands because of it. I'm also not super in touch with local music. I am, however, in touch with cable tv, snacks, and going to bed early on weekends. Is there a Queer Women in Pajamas blog?
What brought you to Boston? Are you local?
Reba: I came to Boston because New Hampshire is terrible. Kathleen went to school in Boston, and she is from New York. Ashley is from the area. Slamber has lived in California and Texas, but has been in Boston for some time.
Artists inspired you personally or musically?
Reba: When I was 15 or so, I was fortunate to have been introduced to a lot of riot grrl/queercore bands. The Internet had a lot to do with that– I was really into Lookout! Records and pop-punk stuff, and somehow that lead me to riot grrl chat rooms on AOL. I met a lot of people that way– some of whom are still my best friends. I was hugely influenced by Team Dresch, The Third Sex, Helium, Bikini Kill, Excuse 17… but at the same time I was also listening to like, Steely Dan. So I can't pretend that I was ever really that cool.
What do you want people to remember about your band in the years to come?
Reba: We all met as volunteers for Girls Rock Campaign Boston, which –I think it's safe to say– has inspired all of us to play music. Personally, I had a few years where I stopped playing music… for stupid insecurity reasons. Playing music with Slamber, Ashley, and Kathleen has allowed me to relax a little bit and just have fun. For once I'm not thinking about how I look on stage, or if the audience is dancing or not, or if the audience even exists in the first place. It's just fun. I hope that people pick up on that and are inspired to start a band of their own, the way that GRCB bands have inspired us.
Why did you join a band and what instruments do you play?
Reba: After a session of Ladies Rock Camp (a GRCB fund-raiser) had ended, I found myself inspired but also kind of restless. I saw a lot of talent and was given this new energy during Camp, and I wanted to keep it going. So we (our original drummer: Tanya Palit, Ashley, Kathleen, and I) just got together and played some cover songs one evening. We didn't have any expectations other than to challenge ourselves and maybe build some new friendships. Tanya (<3) had to step away from drums to focus on some other projects, so Slamber joined us just after our first show.
We rotate vocals and instruments in the band. Ashley, Slamber, and I move between guitar/bass/drums– for selfish reasons… so we don't get bored. Kathleen keeps anchor on keys because she is better at it than any of us. I've learned a ton from watching Slamber play drums and guitar. And Ashley is always encouraging us to move around and loosen up on stage. Kathleen has pipes like woah. It's great to be able to try new things and learn from each other.
female members we should know about?
Reba: I'm hesitant to pigeon hole anyone if they don't feel comfortable with the label. I guess I'd just encourage people to support women in music in general… or just support women in general… and we'll all benefit from it either way.
XXXXXXXXXXXXXXXXXXXXXXXXXXXXXXX
Cuisine en Locale on Highland Ave in Somerville.