Marissa Owens, a self-described "scruffy folk" musician got her start in Boston and, as she moves into new aspects of career, keeps Boston close to her heart.
Listen to One of her Songs:
A Brief Bio of Marissa:
"A self-taught, unsigned folk singer-songwriter,Marissa Owens finds her home in Portland, Maine. Currently enrolled at SUNYPurchase for studio composition, she is a barefoot traveling soul, paddingalong the riverbanks of love, hope, sadness, and longing. The deep meaning shefinds in place, and her cherishing of fleeting human interaction, pours throughher rhythmic, powerful, heartbeat-esque finger picking style. Withdiary-confession lyricism, her music exudes a feeling of being suspendedbetween wandering and searching— both lost and found, home and away."
QWIMB asked Marissa to answer some of our favorite questions about Boston and queerness, as we like to do. Here are her responses.
What brought you to Boston?
I came to Boston to study at Boston University. I was pursuing a degree in human physiology, but instead of studying, I wrote songs and recorded them in my dorm room. Boston was the place where songwriting started for me. Unfortunately for my roommate, I was always practicing tunes. Eventually, I had to pay attention to the fact that I dreaded school and should not be wasting money or time in the wrong place. I withdrew from Boston University and decided to apply to SUNY Purchase's studio composition program. I had a free year between studying at Boston and SUNY Purchase, and in that time I got to reflect on my experiences in Boston.
What was your experience like in Boston?
While I was in Boston, I met a lot of great people because of my involvement in the queer scene at Boston University. I made a point to go to events outside of Boston University, just to feel more comfortable in the community. Boston allowed me to be open about my queerness as an adult. That was so valuable to me.
I loved wandering around Boston. I liked getting lost in the crowd, and I spent a lot of my time riding the T alone just to think. On my campus, people didn't smile at others walking by. I wasn't used to that. On one hand, I wanted strangers to connect, but on the other hand, I liked passing through a crowd where nobody cared about me. It is a confusing way for me to feel, but I explored all of that confusion and angst in my songs.
What's great about Boston is there are so many young people there. There's a feel of excitement, inspiration, and open-mindedness.
Did you feel there was a "scene" for queer female musicians? What about queer women of color? Is there a strong Boston scene in that regard? Was it welcoming/unwelcoming?: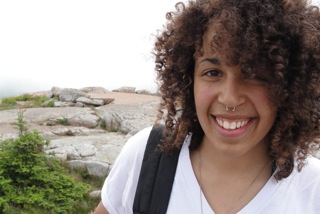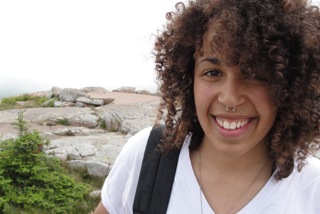 There is a scene for female musicians. Although I was not playing shows in Boston, all of the artists I met and respected in Boston were women. I was so lucky to meet Jenny Owen Youngs and Steph Barrak. For big names, and indie musicians alike, I think Boston has a place for all musicians, because of the range of venues available. I was really in tune with the queer musician scene, and I think Boston supports that scene as well. What's important is for people to create the scene, and a lot of musicians are doing that, with house shows and such, and that is incredible. As far as a scene for queer women of color, I didn't really experience that. That isn't to say that it doesn't exist, but I'm sure the scene could be much stronger. Every place could stand to be more welcoming toward queer women of color who are musicians. Every place could be more welcoming to women in general. For a woman to get up and relate what she really thinks and feels is still shamed by society. That's the way it is for people who are queer, of color, etc. But, we ignore all of that, and keep putting ourselves out there.
Thanks Marissa for answering our questions and adding to the QWIMB community!
For more info on Marissa and her music here are some links: